Bee Removal Sheffield
Professional Bee Removal Services you can Count on!
Insects play a vital role in our ecology, from pollinating the vegetable-producing plants we love to eat, to summertime flowers. Not to mention producing delicious and versatile honey.
Despite their usefulness, bees have no place inside your home, business or cause a nuisance in your garden. In fact, bee and wasp stings can be quite dangerous and in some cases, even lethal.
If you suspect you have a bee infestation on or in your Sheffield home or property, give the team at Apex Pest Control a call today and find out why so many Sheffield residents trust us to take care of all their pest removal and control problems.
From residential to commercial bee removal, we've got you covered.
Bee Removal in My Area – what does it entail?
At Apex, we know that pests can be more than just a nuisance, and they can be downright dangerous to those allergic and young children and elderly alike.
From the first contact to eradication and prevention, our team of local Sheffield pest control experts will work quickly and efficiently to restore the safety of your premises and ensure the elimination of any bees in the area.
What to Expect
From your first contact with us, our friendly receptionist will take your details and ask questions to understand your situation. They will then schedule an "on-site" appointment where our expert pest control specialists can assess the bee problem, identify the type or species (this may affect the approach/strategy), and discuss advisable solutions with you.
Steps Include:
1. Identification of the species/type of bee – proper identification is critical to the successful removal and ensuring re-infestation doesn't occur
2. Recommendation of Strategy – Once we know what we're dealing with, we'll advise you of the options available for bee removal and the pros and cons of each.
3. Treatment / Implementation – Once a strategy is devised and agreed to, our team will get to work right away.
With over 30 years of experience and numerous certifications, we have the know-how and skill to get the job done safely and help you get back to business or daily life as usual quickly and efficiently.
Our Sheffield Bee Removal Specialists:
• Show up on time for appointments
• Are courteous and professional
• Will take steps to ensure the safety of those in the area
• Are all highly skilled and trained
• Will explain your removal options and work with you to find a solution that you're comfortable with
Bee infestations can be scary, disruptive, dangerous and troublesome. We know first-hand the type of damage and nuisance they can cause and will work to resolve your bee problem quickly and affordable.
Honey Bee Nest Removal in Sheffield
Honey bees in Sheffield (and the rest of the UK) get classified as what's called "domesticated animals". As such an individual approach is required when dealing with honey bee nest removals.
Return them to Local Beekeepers
Honey bees "setting up shop" on your property may belong to a local beekeeper in the area. It's not unusual for certain circumstances to cause bees to "relocate" on their own. When such a situation arises, we make a reasonable faith effort to find the rightful owner. In some cases, they are happy to come and collect and remove their bees and associated honey bee nest for you.
Relocate to a Safe Area
In other cases where an owner cannot be found, or when wild honey bees have been nesting on your property, our team will take steps to safely "re-home" the honey bee nest to an area where they can thrive away from human disturbance.
Insecticide Treatments (last resort)
As a last resort, we will employ residue insecticide treatments approved for honey bee populations. After insecticide treatment, we remove the bees nest and associated honeycombs or block the entrance to prevent re-entry and to prevent random foraging bees from taking back insecticide to other local nests.
What is the Average Cost of Bee Removal?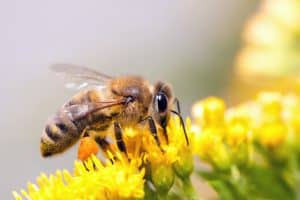 The real cost to remove bees and bee nests will vary greatly depending on many factors specific to your unique situation. A previous article we wrote on the charges for pest control services may be of interest to you.
Below we've detailed some of the variables that can have a large impact on the average cost of bee removal on your property or in your home or business.
1. Type of Bee
• Honeybees
• Bumblebees
• Carpenter Bees
Each type of bee has its unique characteristics, from aggressiveness, to how they nest, meaning each species requires an individualised approach tailored to that particular species of bee.
2. Problems / Issues Present
The specific issues caused by your bee infestation may require different strategies and scope of work to be done to remedy the situation. For example, if left too long, bees can even cause structural damage to homes or buildings, requiring additional work to resolve.
3. Hive Location and Reaction
The location and size of the hive or nest are dependent in large part on the species of bee that you're dealing with. Carpenter bees, for example, often target exterior wooden structures such as window frames, porches and sheds. Bumblebees often enjoy crawl spaces beneath your home and in your yard. Whereas honeybees usually prefer open areas or structures where they can build their hive, and often get found in walls, chimneys and attics.
The location of the hive largely dictates how difficult (or easy) it may be to remove or eradicate the bees from the premises.
Likewise, tight indoor spaces often result in swarms and aggression during removal, thus increasing the risk and safety precautions that need to be taken. All of which can impact cost.
4. Labor, Materials and Repair Costs
The strategy employed may involve different amounts of labour and materials necessary for the effective and safe removal of bees from your property, as well as adherence to any local requirements or regulations.
For example, bees located inside of interior walls may require us to open up the wall to remove the infestation and hive. This will need additional labour and materials to repair the wall to its former state once the bees are removed.
Why You Need to Deal with your Bee Situation Immediately
Bees are a testament to the wonder of nature, helping our local Sheffield ecosystem flourish. However, when they take up residence where they don't belong, they can post a serious health risk to both humans and animals alike, and can even result in severe damage to property.
At Apex Pest Control in Sheffield, we have a track record of customer satisfaction and successful bee removal in both residential and commercial establishments.
If you suspect you may have an infestation, don't hesitate to reach out and learn why so many Sheffield residents trust us with all of their pest concerns.
If you want more details on our bee removal service, contact Apex today on 0114 3491098