Apex Pest Control Sheffield
It's

Monday

12:52 PM

—

We're open Call us Now!
Say goodbye to pest infestations with Apex Pest Control. Get affordable, Environmentally Conscious and professional pest treatments today Call us!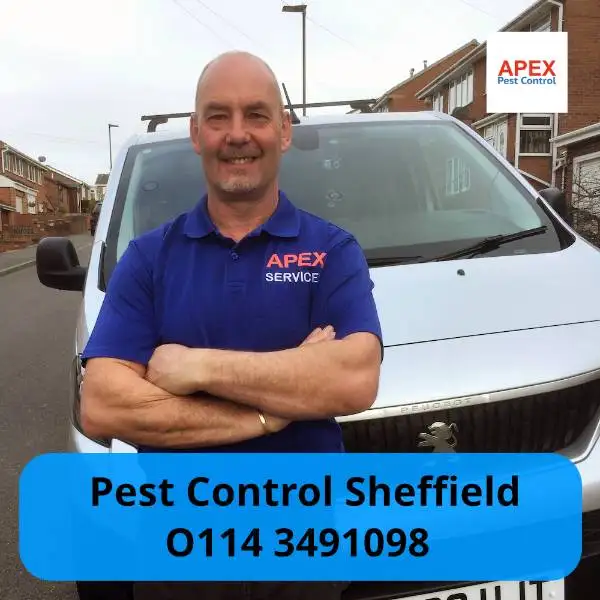 Pest Control in Sheffield, South Yorkshire.
Our pest controllers work throughout the city and nearby suburbs, providing honest, professional and local pest control services for both homeowners and businesses. Our local technicians and surveyors are members of the National Pest Technicians Association and trained under the BPCA and RSPH.
Our knowledge, experience and expertise allow us to provide the safest and most effective pest control in Sheffield using treatments to deal with all local pest problems on your property.
For the best pest control company that takes care of your pest problems, call us today for instant quotes.
Why Choose Apex for Pest Exterminator Services?
Apex, Our Sheffield Reviews
Sheffield City Areas Covered by us.
Quick, Professional Pest Control Services
Our team of local experts, are NPTA (National Pest Technicians Association) certified and are trained by the BPCA (British Pest Control Association) in the best practical ways for a survey and pest removal in your dwelling.
We will deal with all pest problems quickly, with discretion and professionalism and a satisfaction guarantee. Also, you get professional advice to help ensure your pest problems do not return. Here are just some of the bugs, carpet beetles and insect pests we deal with regularly. To find out more details and discuss our competitive rates or pay by debit card call today!
The average cost from professional pest services across Yorkshire will be between £50 to £165 per visit. The cost will vary on your location, the type of pest issue and if you have a major infestation.

An idea of charges in the UK.

Ants £65
Rats and mice £125.
Squirrel trapping £55 per visit
Moles £50 per visit.
Beg bug treatment £165
Wasp control £65 – £125
Bird & pigeon control requires site inspection for a price.
Additional visits from £35
Wasp Nest Treatment Sheffield
Wasps –
Our wasp nest treatment service gets to you as quickly as we can. Once we have the nest located, it will get treated quickly and efficiently.

Typically, the nest will be dead and safe in a few hours.

All our wasp nest treatments are customised to each nest site and guaranteed to work.
Wasps once they have built a nest, do not move to another site and build new nests.
Below are popular questions we get asked.
The local average cost of expert wasp removal in Yorkshire, UK, is typically between £65 and £145, the price of an exterminator will vary depending on where you live. The higher cost will include wasp nest removal from hard to access areas like loft spaces and walls, and the lower end is for an easily accessible location for wasp nest treatment.
When treating a wasps nest, the nest does not need to get removed, but methods are using a professional-grade insecticide. Our pest control experts use the right equipment to reach and address the most inaccessible wasp nests. You usually do not need to leave your home during or after wasp treatment unless your safety is at risk.
We will inspect, target and eliminate all indoor ants, particularly the black ants that are a common pest during the summertime between the months of late May-August. 
Whether ants are in your garden or flying insects in your home, our service uses the most effective methods, from targeted sprays to selective baiting gels to remove your ant problem.
The most popular reason these insects will invade your habitat is that the worker ants have found access to foods like sugars. When these insects find a food source, they tell the rest of the ant nest, by sending a message to the other worker ants, and suddenly swarms of these insects will come into your dwelling to collect food for the rest of their colony.
To avoid attracting more ants, it is best not to squash them. By squashing the insects, you are triggering a scent that will attract more insects. A pest control expert can identify the type of ant that has invaded, and remove the nest and the entire colony from your building quickly and with the best effectiveness.
Hire a pest control professional
Pros address ant issues by locating the main colony. Typically this process starts by laying bait traps containing poisoned food taken back to the ant nest. Once identified, an exterminator will use various methods, including chemical sprays, to eliminate the ants in your home.
Cockroaches – All cockroach problems need an inspection visit to assess the size of infestation. After the survey, we will give you a free estimate to get rid of cockroaches from your property.
Roaches carry diseases like Gastro-enteritis and Salmonella and pose a health risk. Our experience and knowledge will establish the exact type of cockroaches species and find all potential hiding spots. We then use the most effective treatments to eliminate the problem safely.
Here are some regular questions we get asked about cockroaches.
BedBugs – To get rid of bed bugs from the infested room, we need to inspect. Once your bed bug scenario gets assessed, we will give you free quotes to start the bug removal treatment in Sheffield.
Bugs will spread quickly to adjoining rooms and properties by crawling through openings in-wall or floor cavities. We carry out a detailed inspection to confirm if bed bugs are the problem and identify the problem's size. Each bug treatment is individually designed to eliminate bed bugs from your residence.
Here are some common questions we get asked about bedbugs.
Travel is the most common cause of bed bug infestations. Without you knowing, bedbugs will hitchhike on people, luggage, clothing, or personal belongings and get accidentally transfer to other places and properties.
Beg bugs will move three to four feet per minute on most surfaces. Bedbugs at this speed easily to travel between rooms and floors in the home. And bed bugs quickly find a new hiding spot before being seen.
Fleas – Our Sheffield based pest control team offer discrete, tailored solutions to eliminate insects in your premises, be it your home or company.
We will need to assess your flea issue and property scale with all flea infestations to get you the best competitive quote. All our flea treatments get designed to eradicate the issue and place a long term solution.
Here are some regular questions we get asked about fleas.
How to start eliminating fleas from your property:
Use a robust suction hoover on all floors, upholstery, and mattresses. 

Use a steam cleaner for carpets, all upholstery, and pet bedding. 

Wash all bedding, plus your pet's, in hot water. 

Employ a pest expert to treat the flea infestation chemically.
De-flea all pets in your home.
Call Apex today on 0114 3491098 for flea infestations.
Undisturbed and without a food source (of blood), a flea will live more than 100 days. Typically fleas will live two to three months. Female fleas do not lay eggs until after their first blood meal but, begin to lay eggs within 36-48 hours of feeding.
To get fleas out of your home requires patience. Typically, it will take 3-4 months to get rid of an infestation as it will take all of the insects in your home to finish their life stages.
We Resolve Your Rats and Mice Issues
Mice and Rats: The differences, Habits and Prevention
Seeing a mouse or a rat in your property is never pleasant. In most cases, there is always more than one. These rodents never leave your building independently, and an infestation is imminent as they rapidly reproduce.
Although both rodent species do the same damage to your building structure and carry the same diseases, the Sheffield exterminators from Apex will inspect and reveal the causes of your mice or rats, and how to solve the infestation problem quickly.
Rodent Control – In general, both species will eat almost anything. However, their favourite foods are wheat products like bread and cereal. Some rodents will get pickier and eat only fruit. You can become infected with hantavirus through exposure to rodent droppings, especially those of the deer mouse.
For the reasons already mentioned above, you must act quickly to remove the rodents from your property. 
Call us today for expert help and free of charge instant quote.
At Apex, we deal with every type of pest, also including:
Flies – Flies are a health risk, spreading diseases like E. coli. And Salmonella. Our methods eliminate flies, and we treat any breeding sites, which would lead to re-infestation.
Bird control – our avian specialists are experienced in dealing with pest birds like feral pigeons and urban Gulls. They use safe, cost-effective deterrents, like bird proofing that won't harm the birds or disrupt your business.
Moles – whether it's your garden, golf course or land you own, moles play a significant part in damage to your property, burrowed tunnels allow water to accumulate and cracks to begin, as well as unsightly molehills.
Commercial - Pest Control Companies near me
We work with many a commercial business to control unwanted nuisance pests. As well as pest issues being a pain to customers, it also affects profits and business insurance. As a pest control in Sheffield provider, we offer a tailored pest control service to your business by certified pest control experts.
Our fully qualified staff carry over 30 years experience and quality in pest control for Sheffield, Rotherham and Barnsley in the South Yorkshire area. We are registered under the industry governing bodies NPTA, BMCR and CHAS for domestic and commercial pest control. Including professional pest control and management of:
Wasps
All insect
Bugs
Mole control
Woodworm
Bird control
For a free survey and enquiries to remove the pest from your property fill in our contact email form or call us today on 0114 349 1098 a member of our team will be happy to help.
Best Sheffield Pest Control
Proud Members of NPTA
Choosing an NPTA member, we ensure the services you receive are from a trained & insured company that adhere to strict membership criteria. If you are looking for the best local pest experts, get in touch today for a free of charge estimate, and all enquires.
54 Baxter Drive
Sheffield
S6 1GH
0114 349 1098
Hours
Mon – Fri  8 am – 7 pm
Sat-Sun 8 am – 1 pm
You will find Apex Pest Control located in the northern part of Sheffield based in the S6 postcode. Call our local office today and put a stop to the pesky bugs or rodents!
Hiring Apex - Local Pest Control Companies

Our local team experts are available seven days a week to deal with all your pests and infestations. We offer professional help and competitive rates in tackling every pest situation at affordable prices. When hiring Apex in Sheffield, our staff will provide you with a quote before carrying out any work at your property.  
Pest Control Rotherham – If you live in our neighbouring town of Rotherham or Barnsley, we also offer a range of highly skilled treatments.
For qualified experts to get rid of your pest invasion book your spot with us today!